Kello on melkein kaksitoista ja minun pitäisi olla nukkumassa. Sen sijaan latailen kuvia nettiin ja laitan näytille tällä kertaa kuvia Jennin ja Jarin elokuisista häistä. Olin kaksi viikkoa lomalla ennen heidän häitään ja palailimme takaisin arjen pariin tuona lauantaina. Se olikin mukavan pehmeä lasku todellisuuteen. :)
Jossain taustalla taisi jyrähdellä ukkonen ja tummat sadepilvet siintivät horisontissa. Vältyimme onneksi sateelta ja otimme ihania kuvia hääjuhlapaikan pihalla vanhan tammen juurella.
Jenni ja Jari ovat oikein komea pari ja kuten kuvistakin huomaa, Jenni oli yhtä hymyä koko päivän. :)
Sen pidemmittä puheitta päästän teidät kuvien pariin. Kiitos paljon, Jenni ja Jari! Teitä oli ihana kuvailla pienen häätauon jälkeen! :)
It's almost midnight and I should be asleep already. But here I am, uploading photos and sharing pictures from a wedding back in August. I had been on a holiday for the past couple of weeks before photographing the wedding of Jenni & Jari on a beautiful August Saturday. It was a soft landing back to reality :)
I heard a thunder somewhere far away (or at least I think I've heard some rumbling!) and dark rain clouds could be seen in the horizon. Luckily it didn't start raining and we were able to take lovely pictures outside their wedding venue, underneath an old oak.
They are a handsome couple and as you can see from rest of the photos, Jenni was all smiles during the day. :)
But now without more babbling, I'll let you watch more photos. Thank you so much, Jenni & Jari! It was a pleasure to photograph you after a small wedding break! :)
Leppävaaran kirkon sisäpiha/Inner court of Leppävaara Church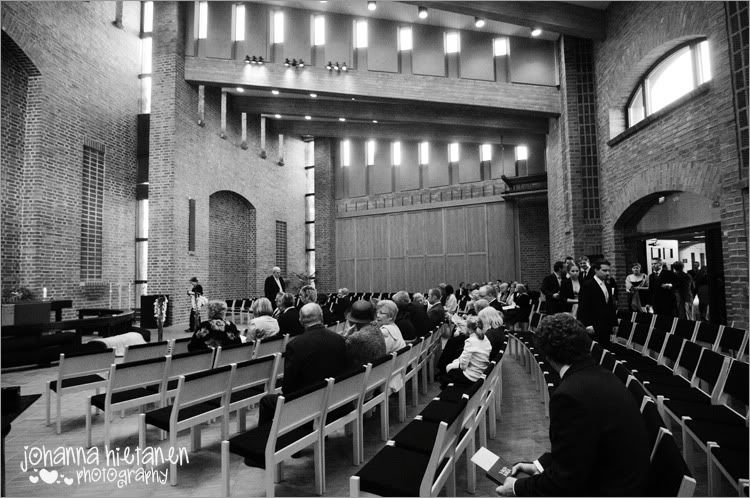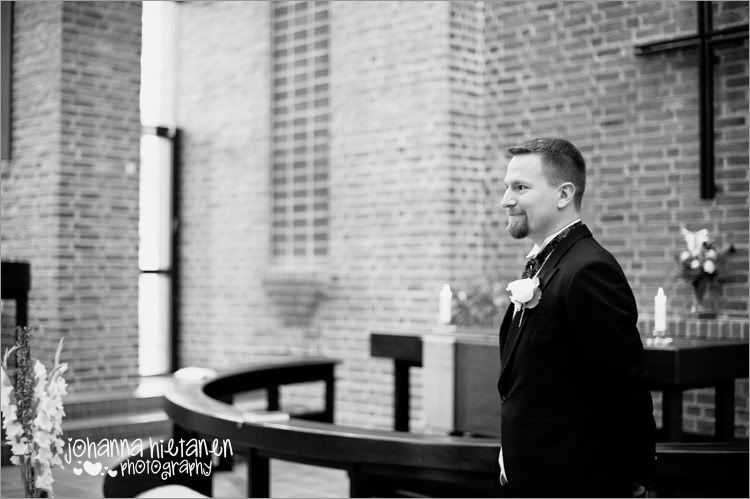 Vihkimisen jälkeen/Right after the ceremony

Jennin reaktio, kun yksi vieraista tunki riisiä puvun sisään/Jenni's reaction when one of the guests stuffed some rice inside her dress

Kuvia pariskunnan menneisyydestä koristeluina, ihana idea/I loved how they had decorated the venue with pictures from their past

Vieraiden saapumista odotellessa hääpari kertasi tanssiliikkeitä terassilla/While waiting for the guests to arrive, they practiced dance moves on the terrace

Jennin upeat hääkengät/Jenni's fabulous wedding shoes

Jennin isä rummuissa tähtiesiintyjänä/Jenni's father playing drums as a guest artist

Sormuksen tutkintaa/Checking out her wedding ring

Snapsilaulujen kuuntelua/Listening to some schnapps songs

Yksi lahjoista oli tämä (käsittääkseni) keinulauta/One of the gifts was this swing board(?)